Welcome to Croxguitars
CroxGuitars is a parts upgrade and restoration service for solid body and semi holllow guitars of any type or manufacturer. We offer full hardware upgrades for any Gibson ® and Fender ® type guitars either with genuine parts (new or used) or to a specification of your choice and budget. The most common example is upgrading Epihone® Les Paul with Gibson® parts.

Alternatively buy our parts and do it yourself! All parts available to buy online.
We also offer a body repair and refinishing service for any electric guitar or Bass, custom build or just a colour change just contact us with your requirement and we will give you a full quotation. We also offer upgrade parts for you to do yourself.
We have too many parts to list online so if you can't see what you want just
Check out the links above and below
SHIPPING PRICES 2013 ..FLAT PRICE FOR ALL COUNTRIES
£8.00 MOST ITEMS NO MATTER WHAT QUANTITY OR COUNTRY
£10.00 FOR HEAVIER ITEMS SUCH AS TREMELOS OR HARDWARE KITS
OTHER ITEMS COST WHERE SPECIFIED
We have the parts........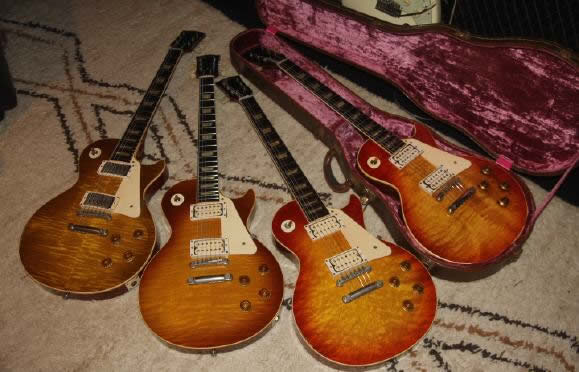 Introducing The Hysteric Parts Collection
Click logo to Enter or Scroll down the page for our Regular Products
It Hasn't Been This Good Since 1959
Introducing the new Art of Aging range of plastic parts for Gibson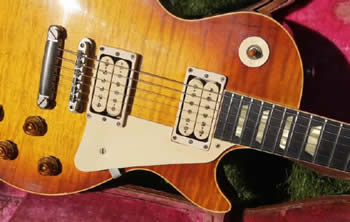 NOW IN STOCK THP PAF PICKUPS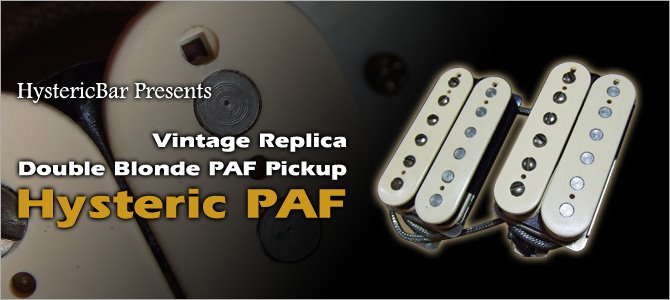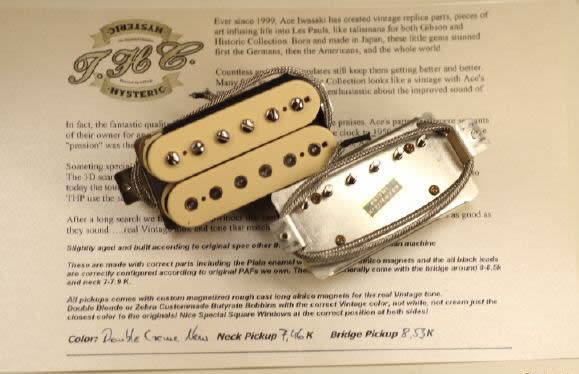 Click on the Links Below for:
RECOMMENDED LUTHIERS AND REPAIRERS
Walkthroughs and Guidance on Upgrading
LP Kit Build Using Area 59/ THP Parts
Converting from a Nashville TOM Bridge to an ABR1
Converting an Epi Bridge to a Nashville TOM Bridge
Epi Fretboard Inlay Replacement
How to Install Binding on a Set Neck
Headstock Overlay Installation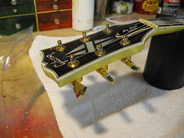 CUSTOMERS GALLERY
See what our customers have done with our parts ande their projects!
CLICK ON IMAGES GOLD LINKS AND TO GO TO SECTIONS
NEW STUFF!
NEW
Many Parts for Firebirds - Pickup Covers, Plates, Rings. Plastics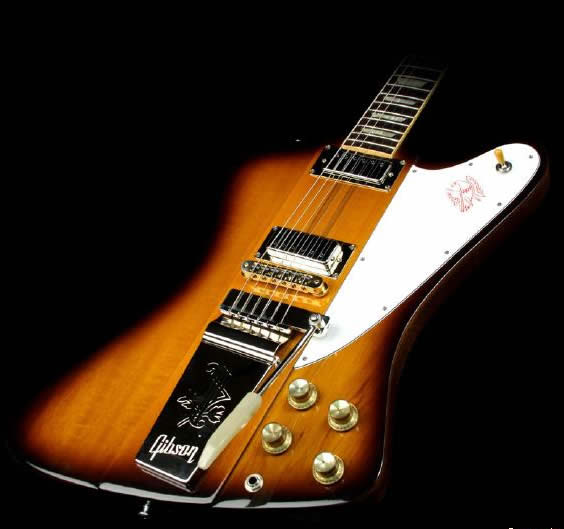 CUSTOMERS GALLERY

Pictures of some repairs and upgrades
Gibson® OEM Historic Non-Wire ABR-1 Bridge Aged Nickle, New or Gold Finish

Straight from Gibson Guitar's Historic Re-issue guitars come Gibson Gear's new Historic Spec series – parts that have been specially designed to replicate the original parts used by Gibson in the late 1950s. With this Historic Non-Wire ABR-1 Bridge, Gibson has re-created the famous non-wire bridge it used on its electric guitars until 1962-63. "GIBSON ABR-1" is featured in raised letters on the base of the bridge. The vintage bridge also includes un-notched saddles.
*MASSIVE PRICE REDUCTIONS ON PICK UPS*
NOW AVAILABLE CUSTOM WOUND PICKUPS
Taking Tone to a whole new level,
Made in USA
PAF's. P90's and Single coil sets
By Placing an order through this site it is a condition that you have read and accepted our terms and conditions
* Gibson® and Les Paul® are registered trademarks of GMI International. Fender®, Strat®, Stratocaster®, Relic®, Tele®, and Telecaster® are registered trademarks of Fender Musical Instruments Corp. Kluson is a registered trademark of W.D. Music Inc . Croxguitars are in no way affilated with these companies in any way. We use the names to show which parts are suitable for use with specific guitars. Parts offered are for restoration or upgrade of OEM guitars only. See our terms & conditions for full disclaimer.